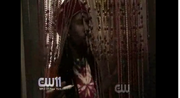 Levi The Weed Guy is a charcter mentioned in the episode "Everybody Hates the Class President (Part One)" (Season 2 Episode 2). When the narrator goes off on a tangent about previous tennants, one of the is Levi The Weed Guy, who was apparently evicted because Julius's children were high.
Reggae Music is playing during this brief conversation.
Ad blocker interference detected!
Wikia is a free-to-use site that makes money from advertising. We have a modified experience for viewers using ad blockers

Wikia is not accessible if you've made further modifications. Remove the custom ad blocker rule(s) and the page will load as expected.